It was another spectacular year at Riding Into History!  The 16th annual Riding Into History was a great success.  The Grand Marshal Historic Ride, the Grand Marshal Dinner and the Motorcycle Concours d'Elegance were all sold out.  We reached capacity on every event.  The weather was spectacular, and couldn't have been better.  David Aldana, our Grand Marshal is a genuine personality who really connected with our guests and spectators!  Technical advisor, Brian Slark from the Barber Vintage Motorsports Museum was on hand to help judge the motorcycles of the concours.
Grand Marshal Vintage Lunch Ride and Grand Marshal Dinner
There was a Grand Marshal Vintage Lunch Ride to Corky Bells in Palatka.  Approximately 60 motorcycles rode through the back roads to lunch along the St. John's River.  The Grand Marshal Dinner was held at the World Golf Hall of Fame on Friday night with 200 guests.  The Motorcycle Concours d'Elegance reached capacity at 310 motorcycles and we had a record number of spectators on Saturday.
The 2015 Riding Into History Motorcycle Concours d'Elegance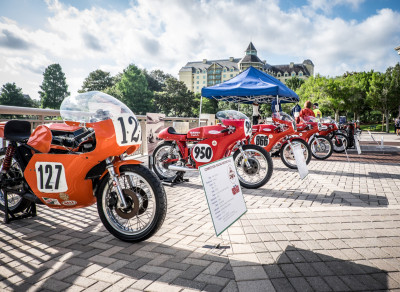 We had some very special displays and motorcycles this year. The Hollingsworth Race Team from St. Augustine brought 11 vintage motorcycles. The whole family was there in force presenting motorcycling as a family affair. The Dillard family who traveled all the way from VA brought some exquisite specimens of motorcycles such as a very rare 1992 Honda NR750 (never imported to USA, only 2 here), a 1974 Ducati 750SS – Winner of 2015 Amelia Island Concours d'Elegance Best Motorcycle and a very unusual 1987 Ducati Santamonica.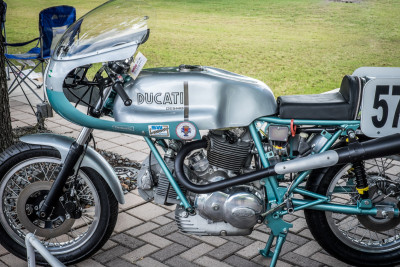 There were 2 Twin Engine Triumphs: Dubble Trubble, a 1953 Triumph 650 Drag Racer and a 1974 Triumph T140 Bonneville modified to accommodate a pair of 750cc Triumph twin engines seamlessly mated together. This year was a very difficult year to pick the best of show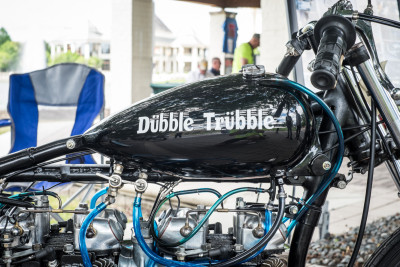 with the high quality of motorcycles from which to choose. The Best Motorcycle of the Show was Chip Doherty's 1938 Triumph. Congratulations Chip!
The Hagerty Youth Judging Program
This was our second year of the Hagerty Insurance Youth Judging Program coordinated by Buck Carson of Classic Chrome Radio Show.  Buck is a young man very active in vintage motorcycles and dedicated to bringing the younger generation into the hobby.   He has ridden in the 2012 and 2014 Cannonball motorcycle cross-country endurance races.  We had 12 motivated kids involved in the program this year.  There was definitely an increased interest from the youth this year!
K9s For Warriors!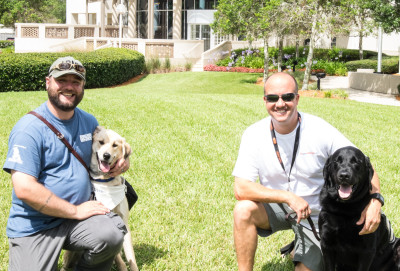 We are so proud of our chosen charity, K9s For Warriors!  Last year we were able to name 2 dogs.  The first dog we named, Triumph, graduated last month with his new warrior/owner, Joseph.  Joseph and Triumph were able to join us at the concours this Saturday.  Seeing Joseph and Triumph together at the event reinforces why we put on our world-class motorcycle event.  Denis Oliverio, the director of Development for K9s For Warriors, was also on hand with his service dog Winchester.  We expect to give a substantial donation to K9s for Warriors.  We hope to provide funding for 4 dogs and 4 warriors.
Please be sure to join us next year for "Viva Moto Europa", featuring European Motorcycles, May 28, 2016 at the World Golf Village, St. Augustine, FL.