Riding Into History is right around the corner.  We have some special displays for you this year.  As I mentioned in a previous newsletter we will have 10 racing motorcycles from The Hollingsworth Race Team.
TWO Twin- Engine Triumphs!
Legendary racer Bud Hare built Dübble Trübble.  This 1953 twin-engine Triumph drag raced in the 1950's with top speeds of over 140 mph!  This motorcycle raced at the Bonneville Salt Flats at 157 mph!
Glen Kerr was 17 years old and working in a Triumph shop in North Little Rock Arkansas.  In 1961-62, someone came in and told Glen about a Triumph Twin-engine motorcycle he found in a barn in Paris, AR.  He decided to go look at the motorcycle.  The owner wanted $500.  It only had one motor in it, the other on the ground, and the front end was wrecked.  He really wanted it so he sold his 1959 Triumph T110 to buy it.  Glen drag raced Dübble Trübble for the next three years.
Then Glen had Dübble Trübble totally restored with the help of Boris Murray.  It is now 85% original.  We are very excited to have this special twin-engine Triumph motorcycle at Riding Into History.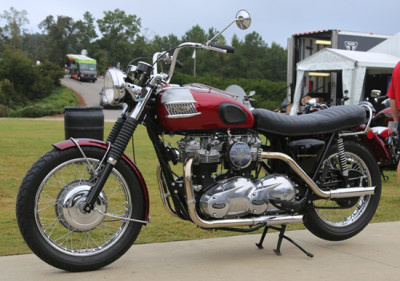 Steve Pieratt owns the other Twin- Engine Triumph. It is a 1974 Triumph Bonneville 750 T140 that has been modified to accommodate a pair of 750cc Triumph twin engines seamlessly mated together, resulting in a 4-cylinder, 1,500cc Triumph Bonneville.  The motorcycle has an extended kickstarter lever that is lengthened to clear the exhaust and give leverage.  The motorcycle kickstarts both engines easily.  This is a beautiful bike that Steve actually rides!
I Scream, You Scream, We All Scream for Ice Cream!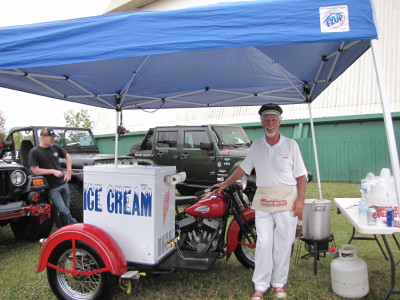 This year Riding Into History has a special motorcycle entry of a 1940 Harley Davidson UL with sidecar/ice cream wagon.  So when you are touring the Concours on May 23, 2015, be sure to stop by the American Antique (AA) Motorcycle Class to buy an ice cream.  Jack "Flathead" Stauffer will be selling ice cream from his motorcycle sidecar!  Jack will be donating 20% of his gross sales to K9s For Warriors.  Thanks for remembering our charity.
Calling for Last Minute Motorcycle Entries
We are still accepting motorcycles into the Concours.  You may register your motorcycle online at:  https://ridingintohistory.org/concours-entry/.  We have a great selection of motorcycles this year.