Last year Riding Into History was able to donate $40K to our charity, K9s For Warriors.  This program provides service dogs to warriors suffering from PTSD and/or Traumatic Brain Injury.  The service dogs are trained and then paired with warriors and train for another 3 weeks with their new owner.  The dogs used are 95% rescue or shelter dogs.
Riding Into History was honored to name two dogs.  Our first dog, Triumph and his new owner Joseph just graduated the program last week.   RIH showed up in force to support our new team!  It is such a moving experience to witness the bond between Joseph and Triumph.   We are so proud to be a part of this empowering program.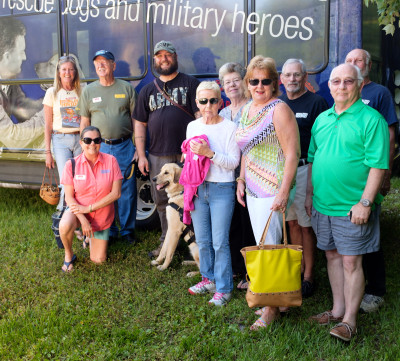 Yesterday I was invited to the VIP Grand Opening of the new K9s For Warriors facility in Nocatee, FL.  The state of the art new home for K9s For Warriors was made possible by Summit Contracting Group, the Davis family, The PARC Group, and many others in the community .  The Community Foundation of Dolores and Wayne Weaver matched charitable donations made by other groups like Riding Into History.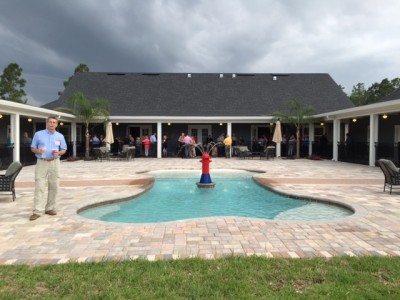 The new home for K9s For Warriors has four, four-bedroom, two-bath homes that provide housing to 16 veterans each month. In addition, the new nine-acre location features a clubhouse with a fitness room, big-screen TVs, pool tables and computer workstations where veterans may keep in touch with their families. The grounds also include an outdoor patio and a fishing pond, as well as an expanded kennel and dog bone-shaped pool for the service dogs.