On July 23, 2015, Riding Into History had the honor of donating $40,000 to K9s For Warriors!  This is our second year of making a $40K donation to K9s For Warriors.  We presented our donation at the new K9s For Warriors facility in the Nocatee community in Ponte Vedra, FL.
We were able to attend the first graduation class of K9s For Warriors at their brand new home.  The class that graduated consisted of 4 female Air Force warriors and 4 female Army warriors.  The new K9s For Warriors home has accommodations to train 16 warriors and dogs at one time.  This is a huge difference compared to their previous home, where they could only train 4 warriors and dogs.  It takes 3 weeks to train the warrior with their dog.  The warriors and dogs live at K9s For Warriors while they train with their dog. 
Riding Into History is proud of this donation to such a worthy cause.  I am very honored to have been the chairman of such a generous and hard working group of volunteers these past three years.  My new role will be heading up Sponsorship for Riding Into History.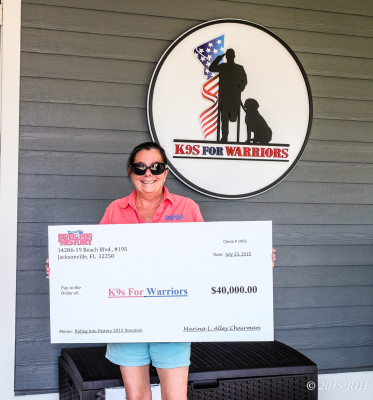 I have officially handed over the chairmanship to Jennifer Samioglou.  Riding Into History is in very capable hands with Jennifer.  She is the face of the gate at the RIH event.  She and her team from the Jacksonville Beach Chrome Divas have worked in so many different ways at Riding Into History.  The Riding Into History family will continue to work together putting on a world class Motorcycle Concours d'Elegance!