For the second consecutive year, disastrous weather was predicted for Riding Into History. And once again sunshine and a warm breeze greeted the hundreds of participants and thousands of spectators at the nation's finest motorcycle concours d'elegance.
Arrayed around the lake at the beautiful grounds of the World Golf Village in St. Augustine, FL, for the eighteenth year were motorcycles of all nations, sizes, and types. This year the event featured Japanese motorcycles and honored Japan's manufacturing ethos of Kai Zen, continuous improvement.
But let us start from the beginning. Before the Saturday show there are the Friday events. We started off with a tour wherein forty vintage machines, led by our Grand Marshal, Hall of Fame motorcycle racer Miguel Duhamel, on a classic CB750 rode fifty miles through the lovely north Florida countryside to a riverfront lunch stop.
Then that evening over 200 dinner guests, including Miguel's Hall of Fame father Yvon, were regaled with tales from Miguel, his renowned crew chief Al Ludington, and Brian Slark, Technical Director of the Barber Motorsport Museum and possibly the world's foremost expert on vintage motorcycles.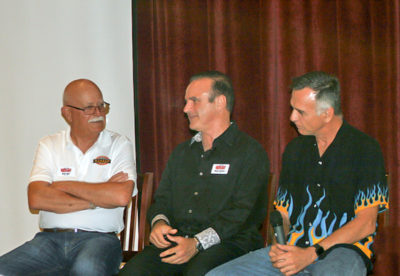 Back to Saturday, where a dozen judging teams had the unenviable task of selecting the close to one hundred award winners. Among the notable winners were Ken Porter's Best in Show 1927 Henderson DeLuxe, Garry Gassew's sandcast 1969 Honda CB750, Preservation Award winner Floyd Webb's 129,000 mile 1980 Suzuki GS1000E, and the Spirit of RIH winning Harley-Davidson Scat of Terry Warnkin.
Riding Into History is a 501c(3) charity organization that has raised nearly $500,000 for local charities in northeast Florida, including $175,000 for the K9's For Warriors. Next year's Riding Into History will once again be held at the World Golf Village on May 19.
For more information please visit www.ridingintohistory.org.