The 15th annual Riding Into History is less than a week away.   We are very dedicated to raise more funds for our charity this year than ever before!  The Weaver Foundation of Jacksonville promises to match any donation given to K9s for Warriors.  Please come and support this very worthwhile organization.  Your entrance donation of $10 goes directly to K9s for Warriors, and you will know that it is being matched.  If you are not able to attend this year, please donate online.
K9s for Warriors will be breaking ground on a new facility at the Nocatee Community in St. John's County FL.  K9s for Warriors' new facility will build on the successful model it has established at its current location. Four, four-bedroom, two-bath homes will provide housing to 16 veterans each month. In addition, the new nine-acre location will feature a clubhouse with a fitness room, big-screen TVs, pool tables and computer workstations where veterans may keep in touch with their families. The grounds will also include an outdoor patio and a fishing pond, as well as an expanded kennel and dog bone-shaped pool for the service dogs, which are rescued from animal shelters.
About K9s for Warriors
Founded in 2011, K9s for Warriors is a not-for-profit organization committed to providing service dogs to wounded warriors suffering from PTSD as a result of military service. K9s for Warriors trains the dogs and matches them with soldiers, who participate in a three-week residential training program to learn how to work with their service dog.   We are proud to have K9s for Warriors as our charity!
Motorcycle Registration
Riding Into History encourages you to register your motorcycle now for the Motorcycle Concours d'Elegance, May 17, 2014 in order to ensure your placement.  Pre-registration is required.  There will be no registration the morning of the Concours. To register online go to  Concours Entry.  All motorcycles registered are entered into a database to allow for correct class placement.  Goody bags are given to each pre-registered person.  Riding Into History does not charge for motorcycle registration.  There is a $10 gate fee for spectators to enjoy the beautiful venue with classic, vintage and antique motorcycles.
Barber Vintage Motorsports Museum Exhibit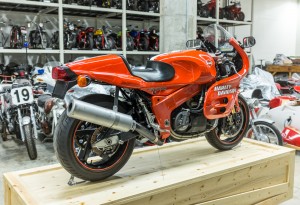 We are very pleased that the world famous Barber Motorsports Museum will be binging an eight-bike display to Riding Into History. This is the largest display they've ever presented off their campus. Executive Director Jeff Ray and Technical Director (and AMA Hall of Fame member) Brian Slark will head up a six-man team of the museum's top restoration experts who will be available all day to talk about their craft. American motorcycle enthusiasts will be in for a special treat as there will be one of only a handful of Harley Davidson's VR1000 homologation specials. Among the other machines, perhaps the most interesting will be a 1926 Ace four cylinder displayed in mid-restoration as an example of the work that is done in the Barber shops. Additionally, there will be a variety of race bikes from around the world and a most unusual custom.