18th Annual
Riding into History™ Motorcycle Concours
Featuring for 2017 "Honoring the Japanese Motorcycle``
Saturday, May 20, 2017
World Golf Village, St. Augustine, Florida
I-95, Exit 323
We are a "Rain or Shine" event.
To all of you concerned about the rain, remember this is Florida – "If you don't like the weather, wait 10 minutes and it will change."
Malcolm Smith, Grand Marshal
Riding Into History announces Motorcyclist of the Century, Malcolm Smith as the Grand Marshal for the 17th Annual Motorcycle Concours d'Elegance on May 21, 2016.  We will be featuring "Viva Moto Europa".  Writer/author, Mitch Boehm will also attend as a special guest.  Malcolm and he have just finish the book,  Malcolm! The Autobiography.  
In selecting Malcolm Smith as the Motorcyclist of the Century, Motorcyclist Magazine says, "Choosing a Motorcyclist of the Century was infinitely more difficult than choosing a Motorcycle of the Century. For the motorcycle, we only had to consider each model. But for the motorcyclist, we had to consider every single person who ever threw a leg over a bike.
But there was one name that was mentioned more often than all the rest, and that name was Malcolm Smith. Then as now owner of Malcolm Smith Motorsports in Riverside, California, Malcolm was a successful racer in the 1960s and '70s, but he wasn't a professional racer. Sure, the scenes in On Any Sunday of him winning the Mexican 1000 and the Elsinore Grand Prix, and earning a gold medal at the International Six Day Trials in El Escorial, Spain, painted a portrait of a Pro racer. But Malcolm never chased points; he simply competed in whichever events he thought would be the most challenging, and the most fun. More than anything, it was Malcolm's ear-to-ear grin that endeared him to viewers, and made them (meaning us) want to ride motorcycles. Couple that with the fact that he still owns one of the largest dealerships in Southern California—stop in for a tour of the museum upstairs—and Malcolm may be responsible for putting more people on motorcycles than anyone else."
Make sure sure you mark your calendars for May 21, 2016 to come see some great motorcycles and Malcolm Smith, the Motorcyclist of the Century!
Riding into History™ – Who Are We?
Riding into History™ (RIH) is a world class Vintage Motorcycle Concours d'Elegance. Since its inception, Riding Into History has been held at the World Golf Village near St. Augustine, Florida. It has received widespread coverage and articles have been written about it all over the world. It was also nationally featured on the Speed Channel.  This competition attracts over 300 antique and vintage motorcycles each year.  Collectors from all over America bring their motorcycles to the show, and they are displayed around the lake which forms the centerpiece of the World Golf Village.  There are numerous exhibitors at the Concours, as well as representatives from several motorcycle clubs.  RIH is a 501(c)3 organization that has contributed $400,000 to charities. Our chosen charity for 2016 is The K9s for Warriors. RIH was able to contribute 40K to K9s for Warriors after the 2015 event. There is no paid staff, and all duties are performed by volunteers.
Donate to K9s for Warriors!
---
Riding into History – Chairman
Jennifer Samioglou is serving her first year as Chairman of Riding Into History. As a member of the Jacksonville Beaches Chrome Divas she has been involved with Riding Into History for over nine years. Her daily ride is a 2015 HD Street Glide. Her goal this year is to keep the momentum set by the prior Chairs and have the best event possible. K9s for Warriors will be the beneficiary of the event.
RidingIntoHistory.org
Malcolm Smith and new autobiography at RIH!
If you've ever wanted to meet motorcycling legend Malcolm Smith, or get an autographed copy of his amazing new autobiography Malcolm! The Autobiography, this year's 17th annual Riding Into History event on Saturday, May 21st is your chance.
It's a great honor to have Malcolm as our Grand Marshall this year, especially with his new book out and generating excellent reviews. Broadcaster Dave Despain loved it, as did Racer X magazine's Davey Coombs. Even the LA Times weighed in with a stellar review.
It truly is an epic book: 400 pages, 11 x 11 inches, nearly six pounds in weight, and containing more than 100,000 words and 451 amazing images of Malcolm's entire life, most of them never seen before. As one of motorcycling most popular and beloved people, Malcolm has a grand story to tell, and the autobiography, written with help from longtime moto-journalist (and previous RIH Grand Marshall) Mitch Boehm, does that story proud.
Saturated with personal storytelling, rich in detail, and containing many never-before-seen photographs from Malcolm's personal archive, Malcolm! The Autobiography is a must-read for any motorcyclist or off-road enthusiast. From his early days along Canada's Pacific coast, to his childhood in Southern California, to his first bikes, his racing efforts in the U.S., Baja, Europe and Asia, to his business life, the iconic movie On Any Sunday and his family life, it's all here, and all told by one of the world's legendary motorcycle and off-road racers.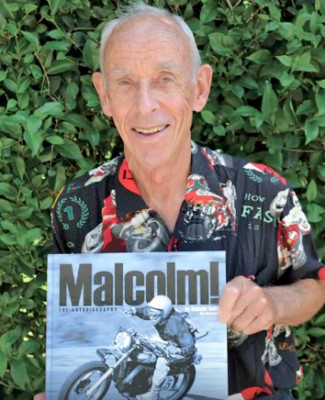 "I've done a lot in my 74 years," Malcolm says, "and I even managed to remember a lot of it despite falling on my head a few times!"
"It was a fascinating project," says Boehm. "Malcolm and I would sit and talk about a period of his life, my recorder going the whole time. Later, I'd transcribe what Malcolm said and weave it all together. Then we'd go over it together, making sure it was just right."
"I'm excited to see what this Riding Into History event is all about," says Malcolm, "as I've heard a lot 0f good things about it. I'll be signing books while there, so if you want a copy with an personal inscription, come say hi."
Only 100 copies will be available at this year's event, each at $60, with a portion of the proceeds going to K9s for Warriors, our charity partner. So bring your wallet, bring a carry bag, and spend a few minutes with a true motorcycle legend – Malcolm Smith!